Overview of DJ ZENMUSE L1 from field works to data processing
What are we going to talk about in this article?
Advertising and marketing work wonders, persuade us wait for a new product for months or even years to get in hands and test it and understand if the long-awaited product is as good as it claims to be.
Today we want to share with you first test results of using DJI ZENMUSE L1 for real survey project and offer you to compare DJI ZENMUSE L1 and TOPODRONE LIDAR 100 LITE data yourself.
Used equipment and survey works
DJI ZENMUSE L1 is based on a high-tech solid-state LiDAR sensor LIVOX AVIA, providing registration of triple reflection, 70 degrees of view, scanning frequency of 720 points per second and a range of more than 200 meters.
In order to test in real conditions technical characteristics and capabilities of DJI L1, we chose a 20-hectare area with roads, buildings and structures, power lines, dense forest, and agricultural areas covered with high field vegetation.
Additionally we made survey by TOPODRONE LIDAR 100 LITE over the same area.
TOPODRONE LIDAR 100 LITE is the most affordable in the line of professional survey grade UAV scanning systems from TOPODRONE based on VELODYNE sensors

Test flights were performed strictly on the same route at a speed of 5 m/s at an altitude of 70 meters. Both LiDAR systems were mounted on the DJI MATRICE 300 RTK.
We used SWIPOSS VRS network as a base station.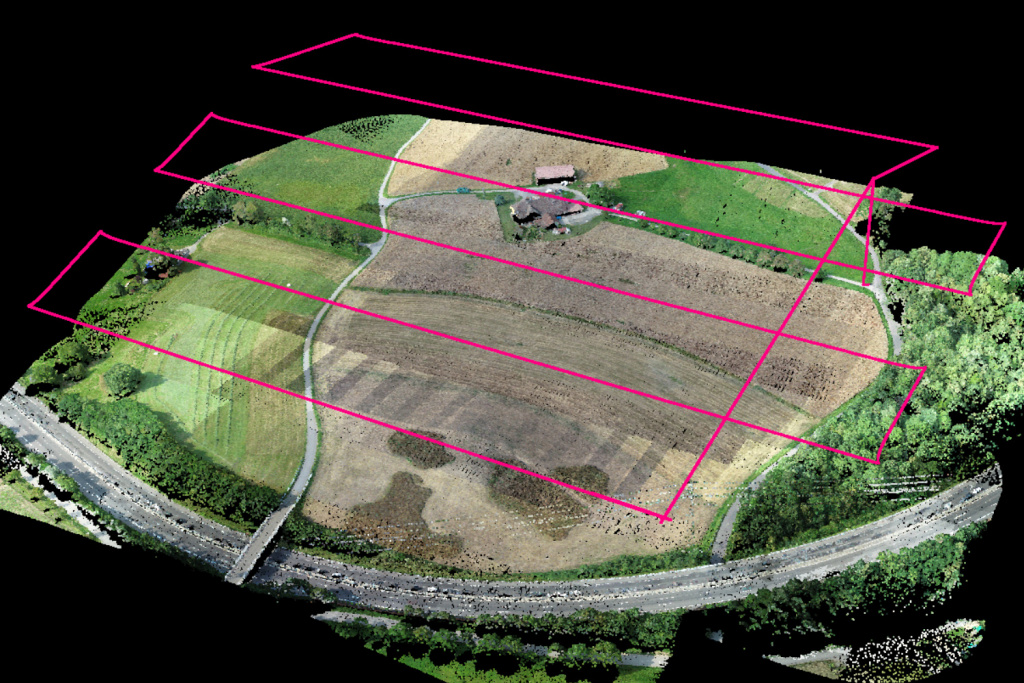 Data processing
The DJI ZENMUSE L1 data was processed using DJI TERRA software. To get the final result it was enough to load all the data into the software and click the process button. The interface of the software is very simple and easy to understand even for an inexperienced user of surveying and photogrammetry.
As a slight inconvenience it should be noted that it is impossible to change the coordinates of the base station and there is no possibility to check the intermediate results at the stage of calculation of the trajectory, generation of the point cloud, route equalization and point cloud filtering.
To generate a point cloud with TOPODRONE LIDAR 100 LITE we used the TOPOLIDAR software, where we performed GNSS and IMU data processing to calculate a high precision trajectory and to generate a high detail point cloud.
There are a lot of advantages of this software including the possibility to process several LiDAR flights at a time, selecting only a part of the trajectory to create a point cloud, supporting different projections and geoids, and extremely fast data processing .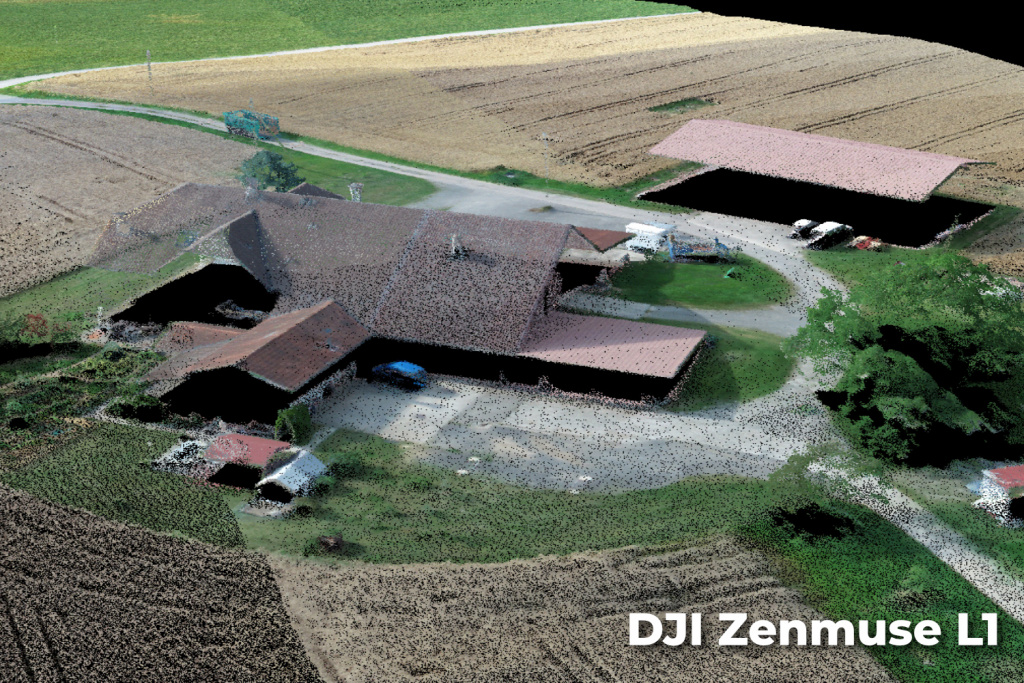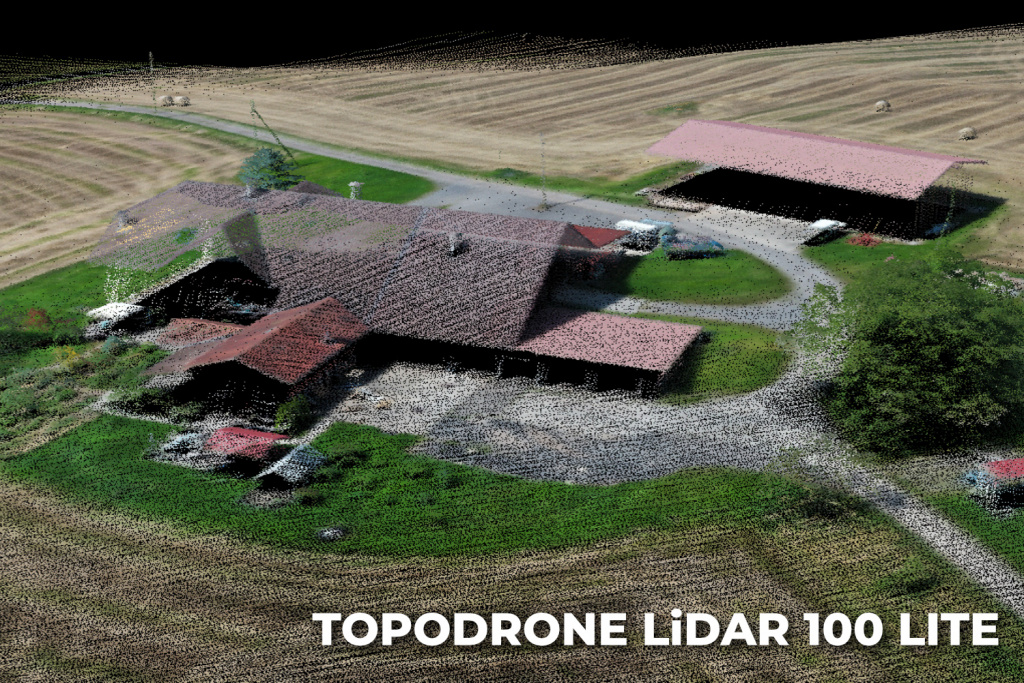 Analysis and comparison of processed data
At first sight we were impressed with the DJI ZENMUSE L1 data quality - the point cloud looks denser on the open terrain and hard surfaces, but on further inspection and data comparison in forest and tall vegetation we saw the following: in DJI ZENMUSE L1 data we can see almost no terrain surface under trees, which makes it difficult to use automatic point cloud classification techniques for terrain surface extraction in dense forest vegetation.
On the opposite way TOPODRONE LIDAR 100 LITE data showed a high number of points under the trees in the same forest area, resulting in an easily traceable detailed terrain surface.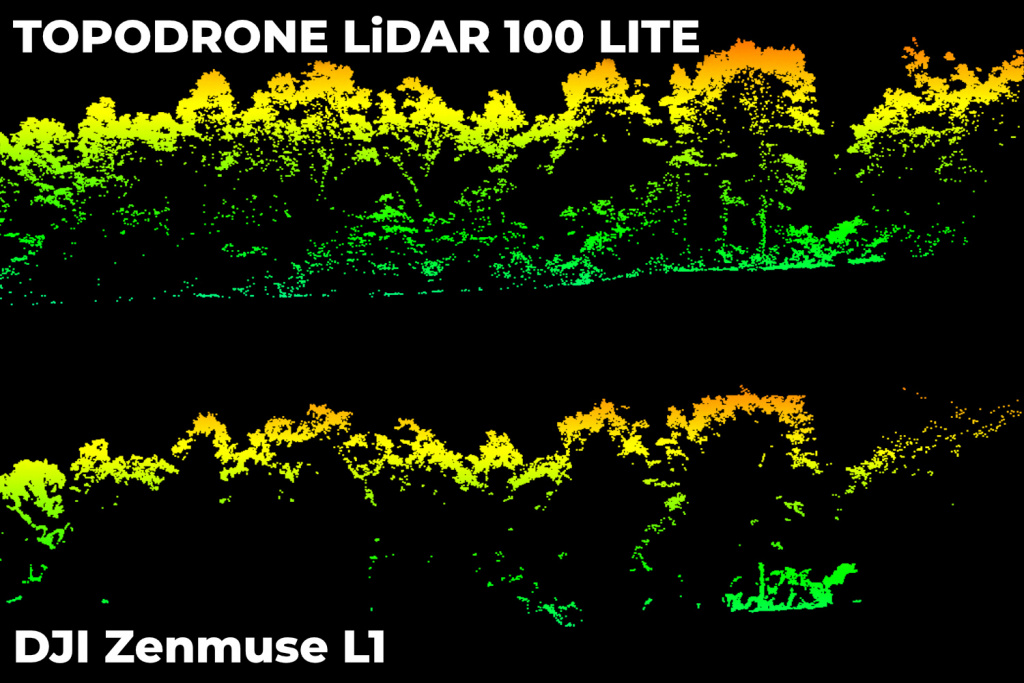 Secondary, it is necessary to pay attention to quality and detail of registration in the data of laser scanning of structure of trees, trunks, separate branches on data TOPODRONE LIDAR 100 LITE, that makes possible application of the given equipment for forest taxation about what we repeatedly wrote in our blog.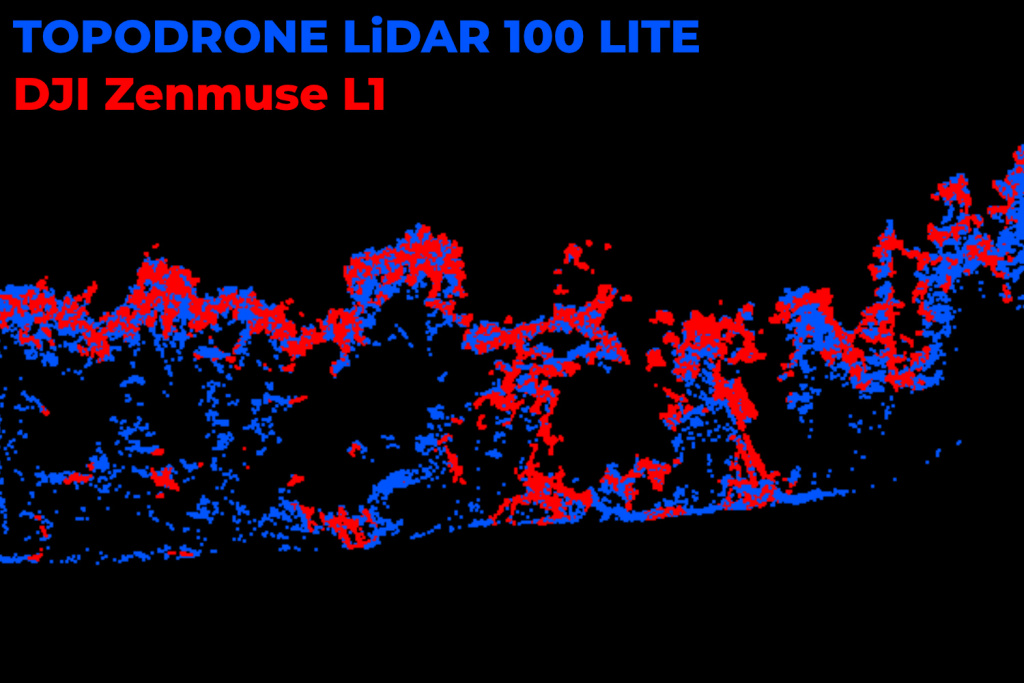 Next we suggest you to shift your attention to an area covered with high field and meadow vegetation. For purity of the experiment we performed an aerial laser scanning at the moment of the maximum growth of the grass, which reached a height of 1.3 meters, and after its cutting in order to receive data about the real condition of the terrain.
In the image below you can see the results of DJI ZENMUSE L1 and TOPODRONE LIDAR 100 LITE survey, captured in one day with an interval of 15-20 minutes (the points displayed in yellow and red accordingly) are combined with survey materials after cutting the grass (blue color) showing the relief of the area.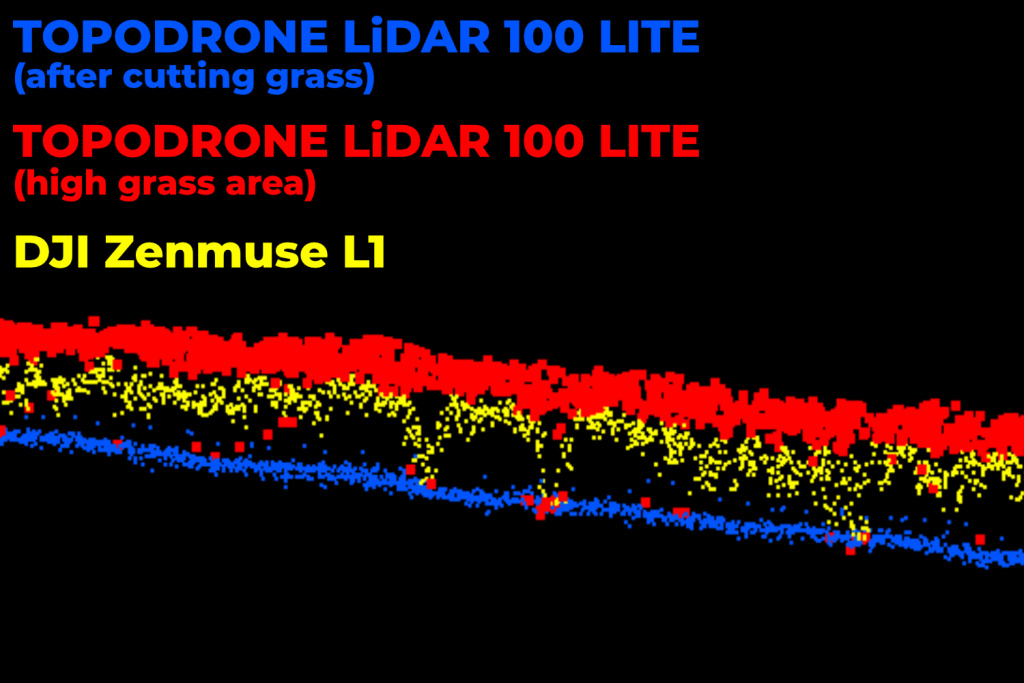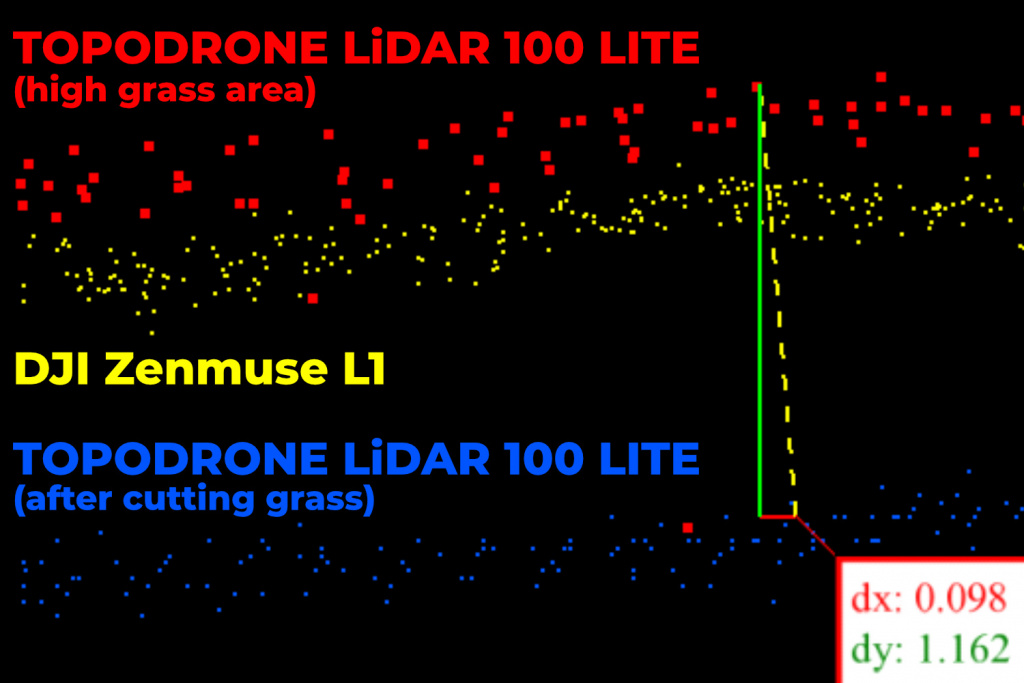 As you can see in the DJI ZENMUSE L1 footage, there are almost no ground reflections on the high grass areas, while the TOPODRONE LIDAR 100 LITE footage shows ground reflections that are completely identical to the real ground and allows the automatic classification technique to build DTMs and contour lines.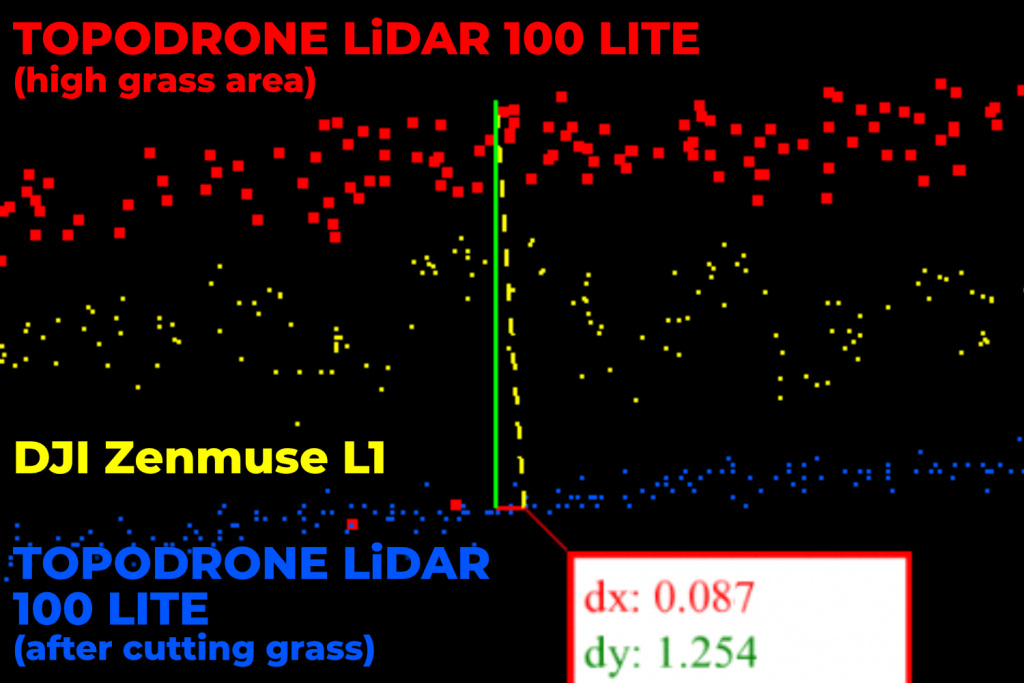 In order to evaluate the quality and level of noise in the point cloud, we built a 10 cm wide section on a typical building roof. It can be visually seen that the height of the point cloud with the DJI ZENMUSE L1 (red color) looks visually wider compared to the TOPODRONE LIDAR 100 LITE.
Conclusions
In conclusion we would like to note that the airborne laser scanning system DJI ZENMUSE L1 has established itself as a very simple and easy to use in flight planning and data processing when after pushing just a few buttons you can get a detailed point cloud and use it for further field work, for real-time monitoring of the volume of earthworks, new construction sites and creating 3D terrain models on open terrain without dense and high vegetation.
Sample point cloud with DJI ZENMUSE L1
Sample point cloud with TOPODRONE LIDAR 100 LITE
| | |
| --- | --- |
| Start cooperation with an individual consultation on the selection of equipment and services. | |