TOPODRONE LIDAR AND BATYMETRIC SURVEY OF LUC DE BRET IN SWITZERLAND
In this article, we'd like to introduce you to a completely new and innovative approach to drone LIDAR and bathymetric surveying. This approach allows you to reduce the time and cost of the work tenfold.
Typically, bathymetric surveying is associated with the need to use rather bulky watercraft, which require special licenses and permits, appropriate transportation facilities, parking, repair-technical base, etc., resulting in significant financial expenses.
At the same time, there are unmanned bathymetric drones, which are a solution to many problems, but have one major disadvantage - high cost.
TOPODRONE has developed an innovative hydrographic equipment, AQUAMAPPER, which integrates ECHOSOUNDER, a high performance GNSS-based inertial navigation system.
The AQUAMAPPER provides 3-5 centimeter accuracy and is compatible with the DJI M300 drone.
The AQUAMAPPER can operate at speeds of up to 16km/h and, thanks to its specially designed streamlined shape, can complete a hydrographic survey of approximately 2-2.5km in a single 20-minute drone mission.
Fig. 1. Technical specification of Aquamapper.
The introduction of drone bathymetric surveying is a game changer in the world of hydrographic surveying. AQUAMAPPER opens up a whole new range of projects, allowing surveyors to go where they couldn't otherwise for safety or economic reasons. AQUAMAPER makes scanning faster and more accurate.
This approach allows drone LIDAR scanning, aerial photography and bathymetric surveying to be performed with the same DJI M300 drone. The whole package can fit in the trunk of a typical car, providing an unprecedented level of mobility.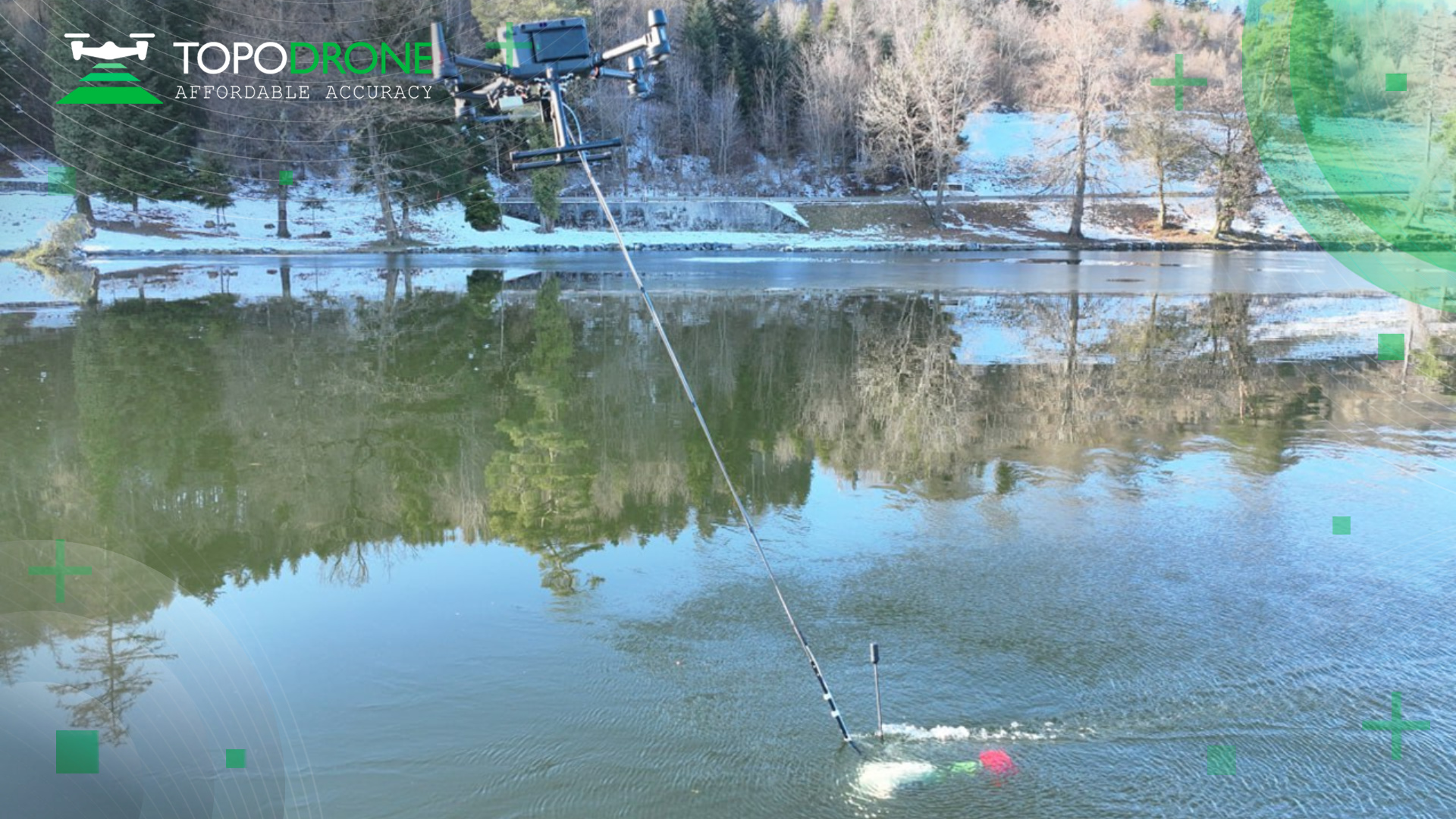 Fig. 2. AQUAMAPPER at work.
Only two people are needed to operate the drone and perform the surveying and hydrographic work. These are the pilot, who is responsible for operating and controlling the drone, and an assistant, who can perform data processing immediately in the field.
It is important to note that the AQUAMAPPER is deeply integrated with the DJI M300 drone. All necessary sensor parameters can be configured via the menu in the native DJI Pilot 2 app. During operation, the drone's remote control displays real-time depth and bottom profile, ground speed, water temperature and sensor tilt angles.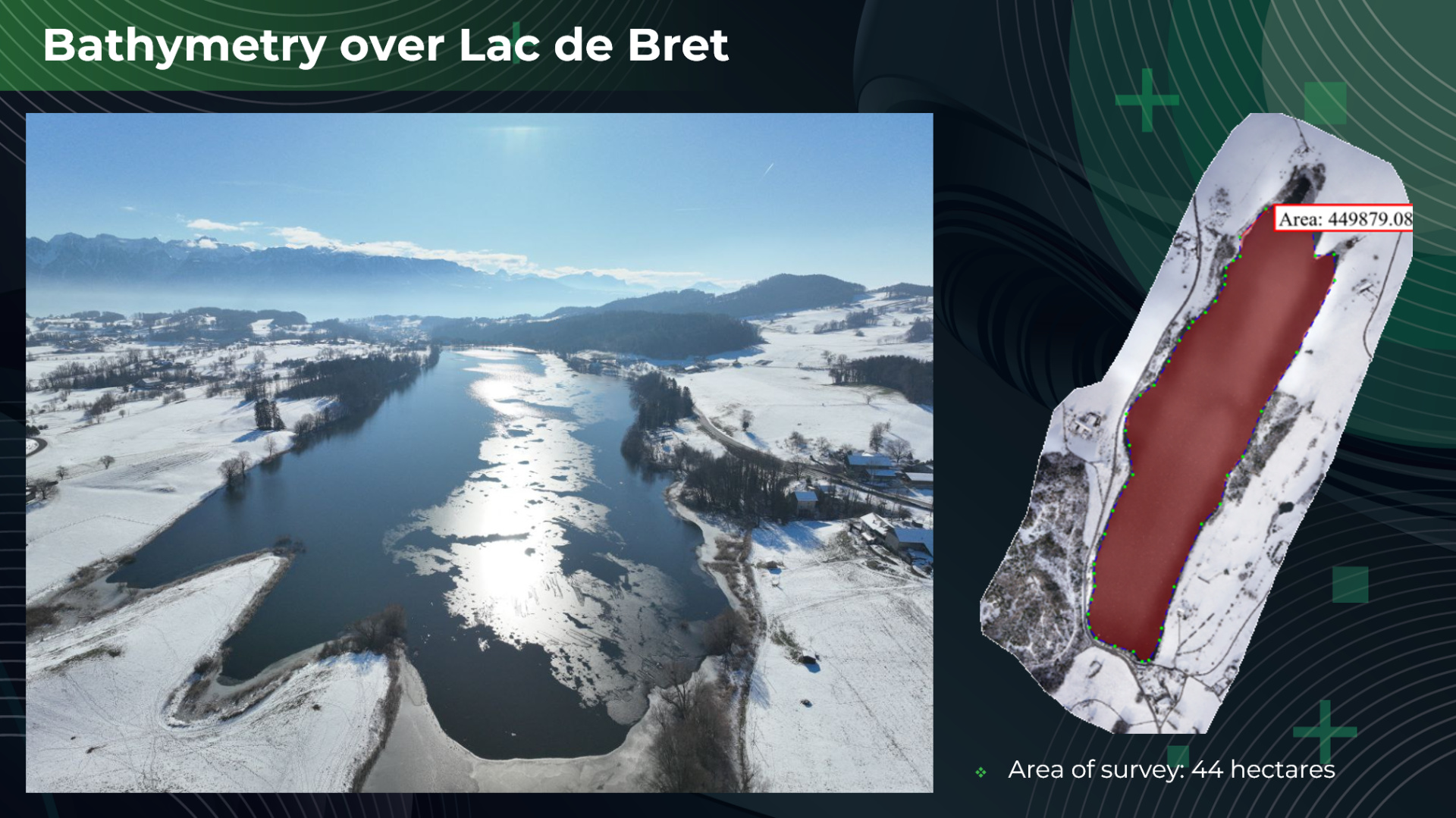 Fig. 3. Area of survey.
A 44-hectare bathymetric survey of Lake Luc de Bret and drone LIDAR scanning of the surrounding area will be considered as a practical example.
As part of the preliminary work, aerial photography of the lake and surrounding area was performed using the DJI M300's on-board
P61 camera to produce a high-resolution orthophotomap
.
Fig. 4. Mission planning in UGCS software.
This data was used to plan the bathymetric missions of the drone, taking into account the coastline and possible objects in the water. The spacing between hydrographic profiles was chosen to be approximately 50 meters.
The UGCS software was used for route planning, surveying and automatic control of the drone flight at the preset altitude above the water using the SkyHub + True Terrain Following package. The EMLID REACH RS2 base station was set up in static recording mode.
A total of 5 bathymetric missions were performed. The fieldwork time did not exceed 3 hours.
Fig. 5. Field works.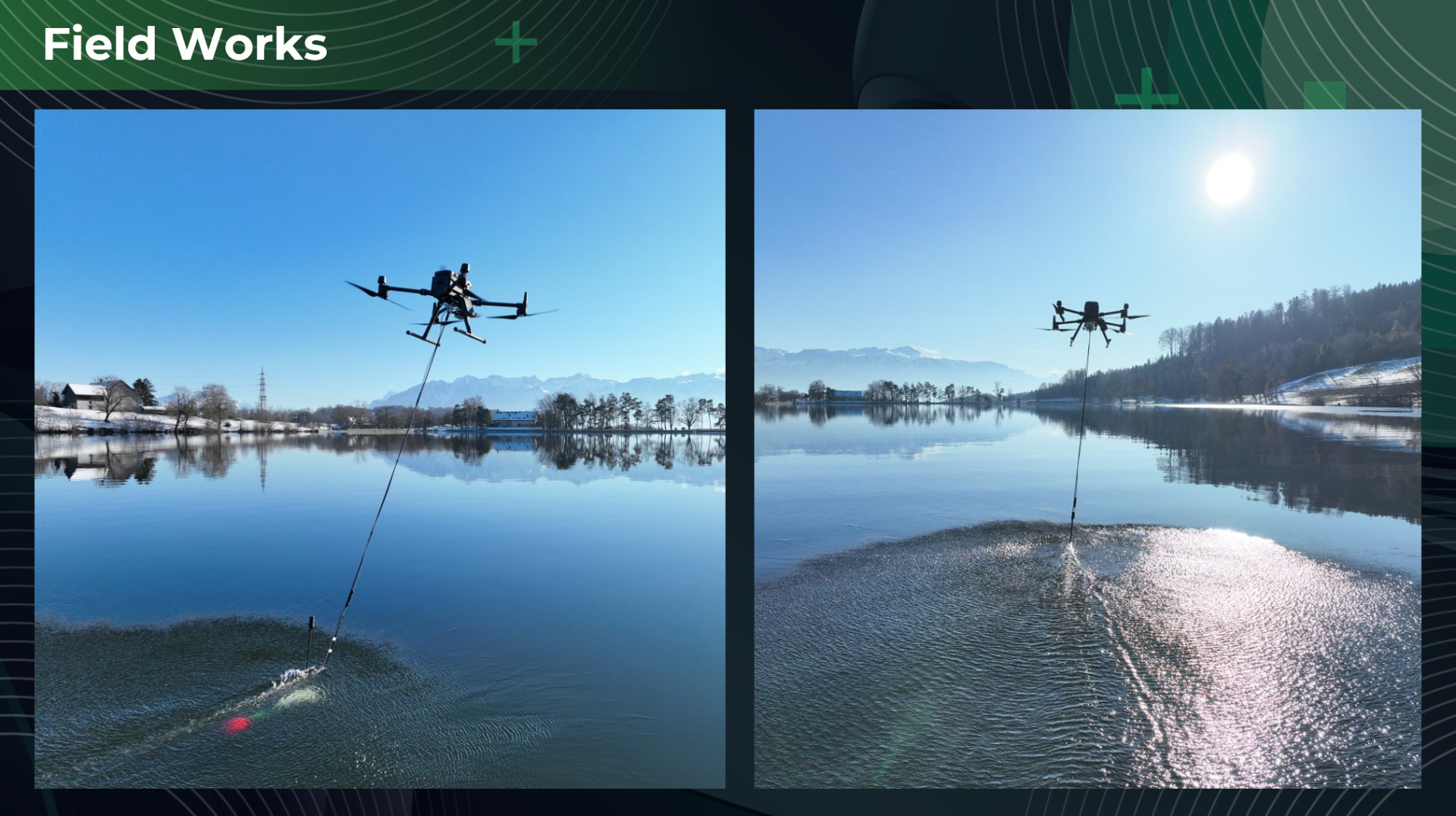 Fig. 6. Field works.
The next step was to post-process the data. High precision profiles of the lake bottom were calculated using AQUAMAPPER software, taking into account echosounder data, high precision GPS coordinates, water temperature and sensor angles.
Fig. 7. Field works.
A depth matrix of the lake bottom was then created and combined with drone LIDAR material. We used the TOPODRONE LIDAR HI-RES mounted on the DJI M300 drone to obtain information about the terrain situation in the area adjacent to the lake.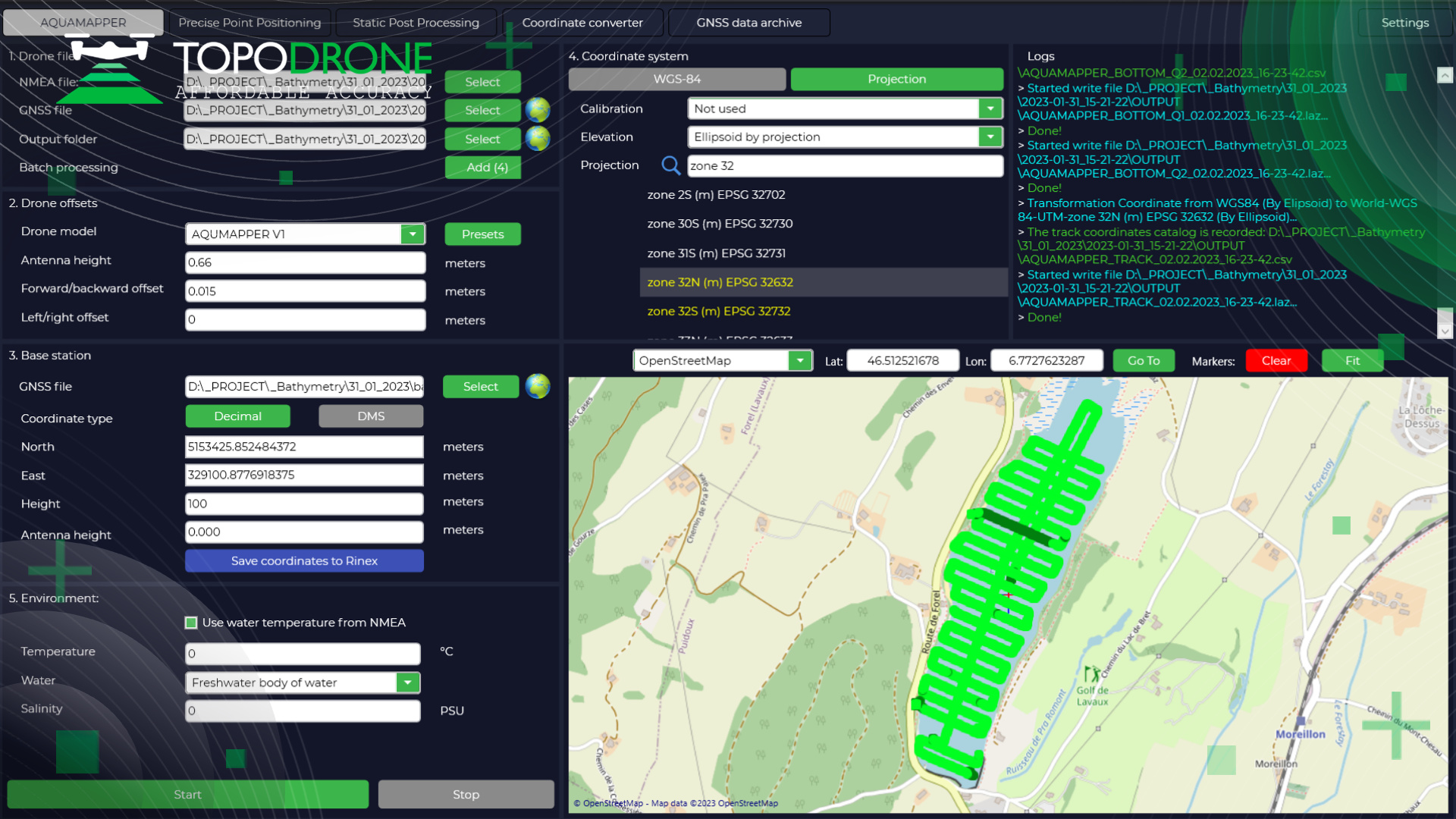 Fig. 8. AQUAMAPPER software.
It took us no more than 20 minutes to perform an airborne laser scan (ALS) and obtain a highly accurate three-dimensional model of the area.
We then performed automatic classification of the LIDAR point cloud, classifying the terrain surface, buildings, vegetation, power poles and lines, and generating contour lines.
It should be noted that the results of the bathymetric measurements are in the same coordinate system as the LIDAR data and can be combined with ALS material for further analysis, mapping and profiling.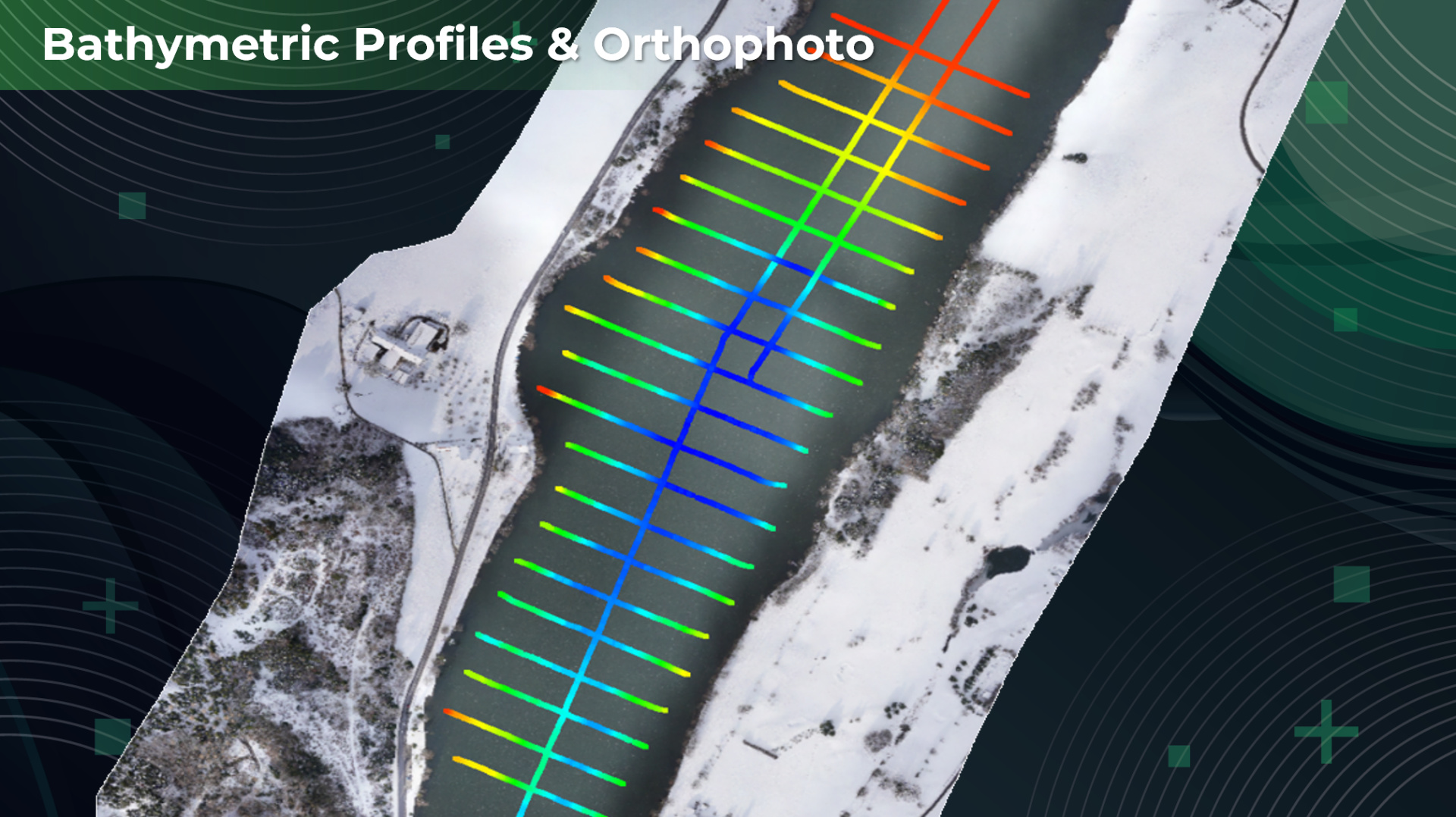 Fig. 9. Bathymetric profiles.
To check the accuracy of the hydrographic works, control profiles were measured crossing the main lines. The difference of the heights on them was not more than 3-5 cm.
In conclusion, we would like to point out the high efficiency of using AQUAMAPPER equipment, which does not require the use of expensive ships and a large number of personnel. In this case, a team of two people can perform both laser scanning and bathymetric surveying with the same drone.
You can perform hydrographic work where the use of larger vessels is not economical or possible, such as areas with steep banks, remote lakes and rivers, or reservoirs.
We are confident that this new level of mobility and performance will be appreciated by the surveying and hydrographic community.
Fig. 10. Combination of LIDAR & Bathymetry data sets.
Fig. 11. LIDAR point cloud.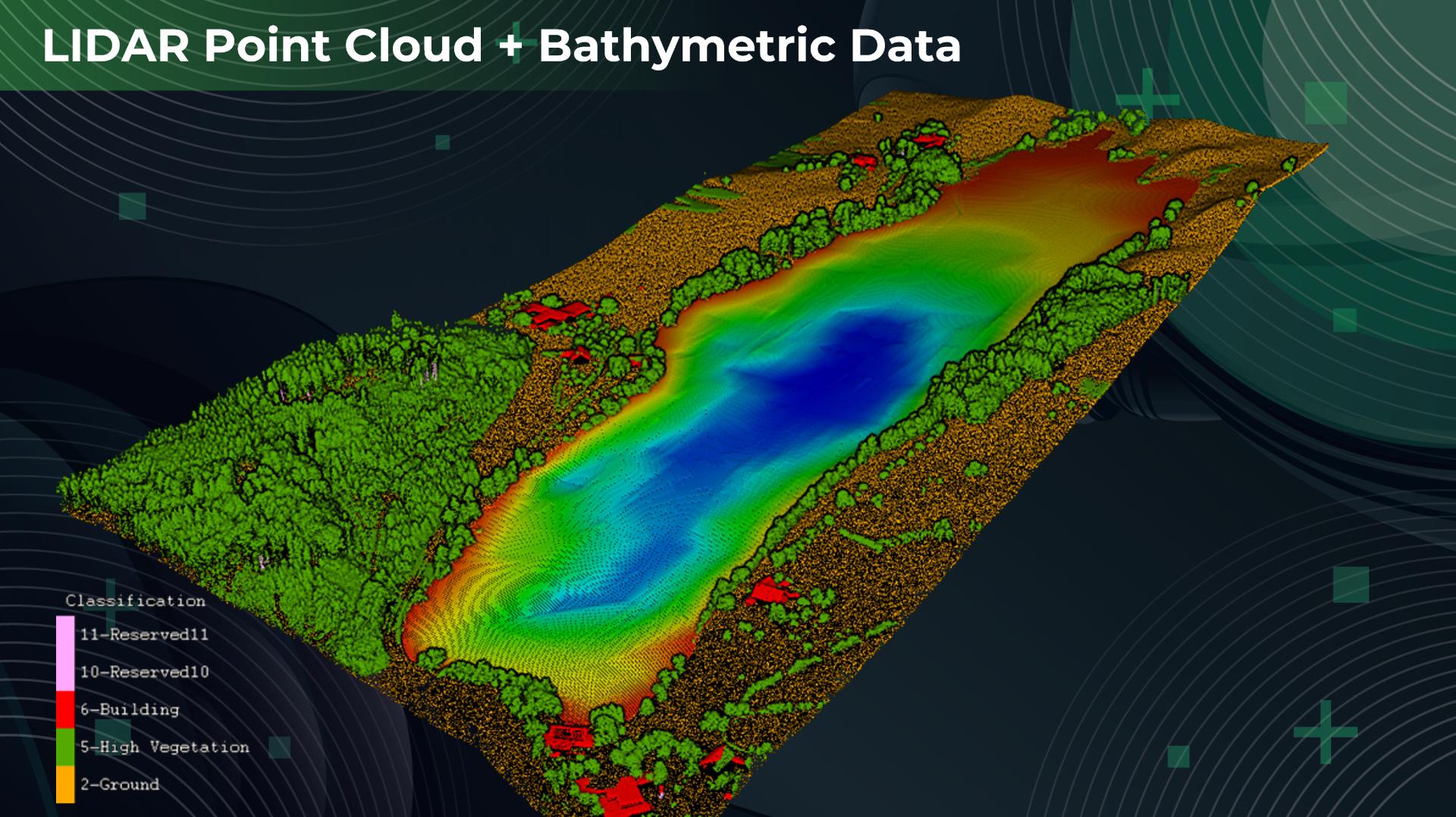 Fig. 12. Classified LIDAR point cloud and bathymetric data.
Fig. 13. The alignment of the depth measurement data and contour lines.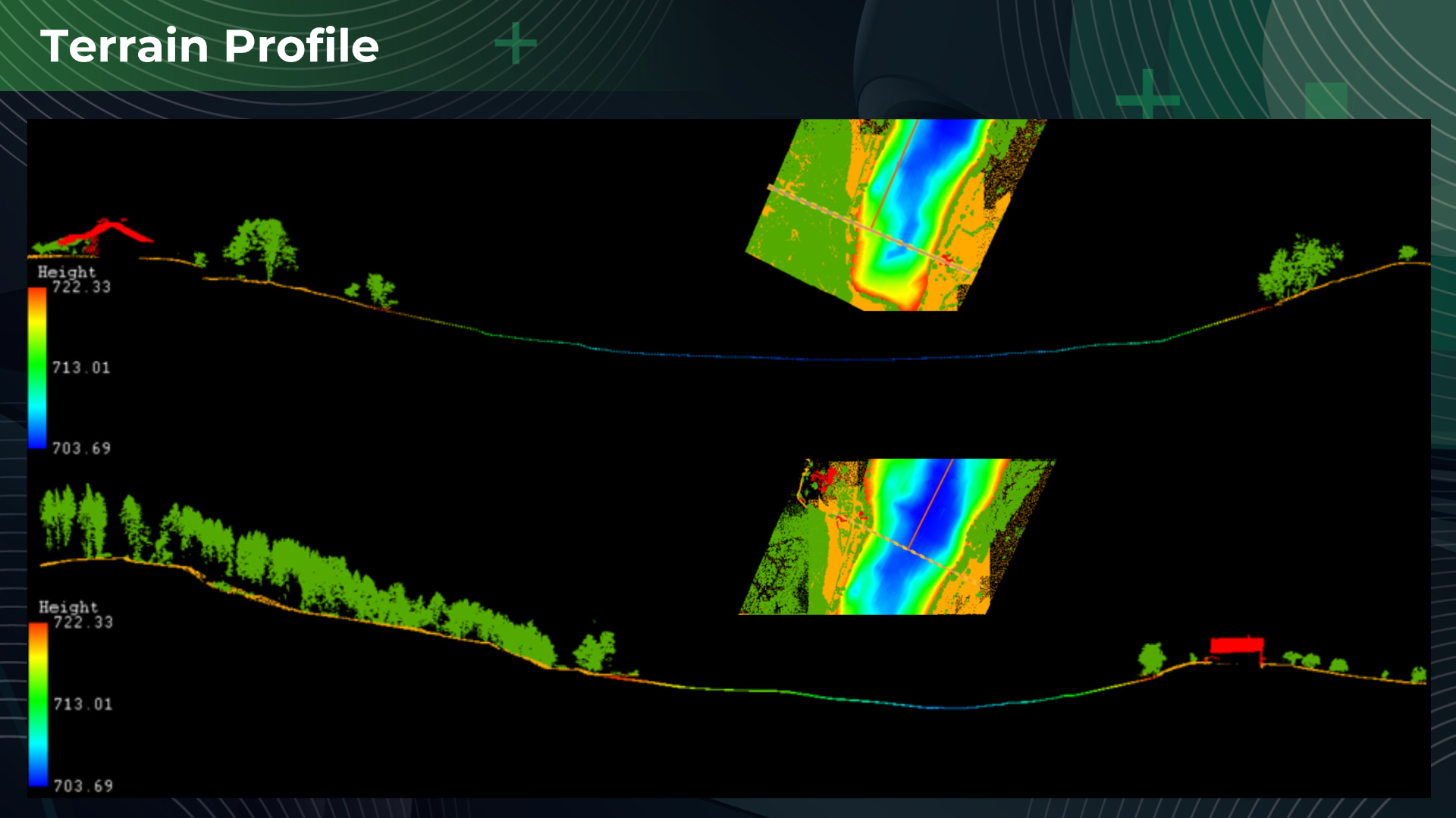 Fig. 14. Terrain profile, based on laser scanning and bathymetry materials.
| | |
| --- | --- |
| Start cooperation with an individual consultation on the selection of equipment and services. | |