FIRST INTERNATIONAL PRECISE DRONE SURVEY AND MAPPING CONFERENCE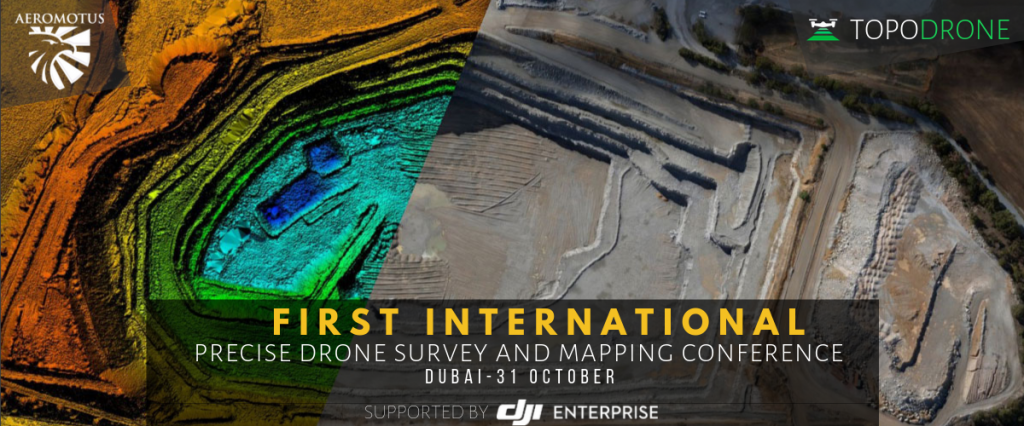 The conference is organized by
Aeromotus UAVT
(Authorized DJI dealer in the UAE) in partnership with
TOPODRONE

SA
(Switzerland).
Our event is intended to share the practical experience of using drones for precise surveying and mapping.
Conference participants will be presented with upgraded versions of DJI Mavic 2 Pro RTK/PPK, DJI Matrice 200 RTK/PPK and DJI Phantom 4 Pro RTK/PPK.
The CEO of
TOPO
DRONE
Mr. Maxim Baklykov will pay attention to the description of the technology and will answer the questions of the participants. During the conference sessions, you will see a demo of the whole process of aerial data collection and post-processing.
Using TOPODRONE innovative solution you can easily convert images to 3D models and achieve 2-3 cm x,y,z accuracy without GCPs.
Part of the event will be devoted to the reviewing of the software used to obtain high-quality results.
Understanding how important to have practical & theoretical knowledge of aerial survey and photogrammetry data processing, Aeromotus and TOPODRONE invite you to take part in the conference PRECISE UAV SURVEY & MAPPING.

After the conference surveyors and drone pilots can receive sufficient and necessary knowledge to independently perform precise aerial surveys, data processing and mapping with centimeter-level accuracy without ground control points.

To participate, you must register through the form at Aeromotus website or by phone +97143512929. Admission is free.
| | |
| --- | --- |
| Fill the form on the website, we will contact you shortly and answer all your questions. | |