DJI Mavic 2 Pro RTK/PPK — compact and professional solution for aerial survey without ground control points (GCP)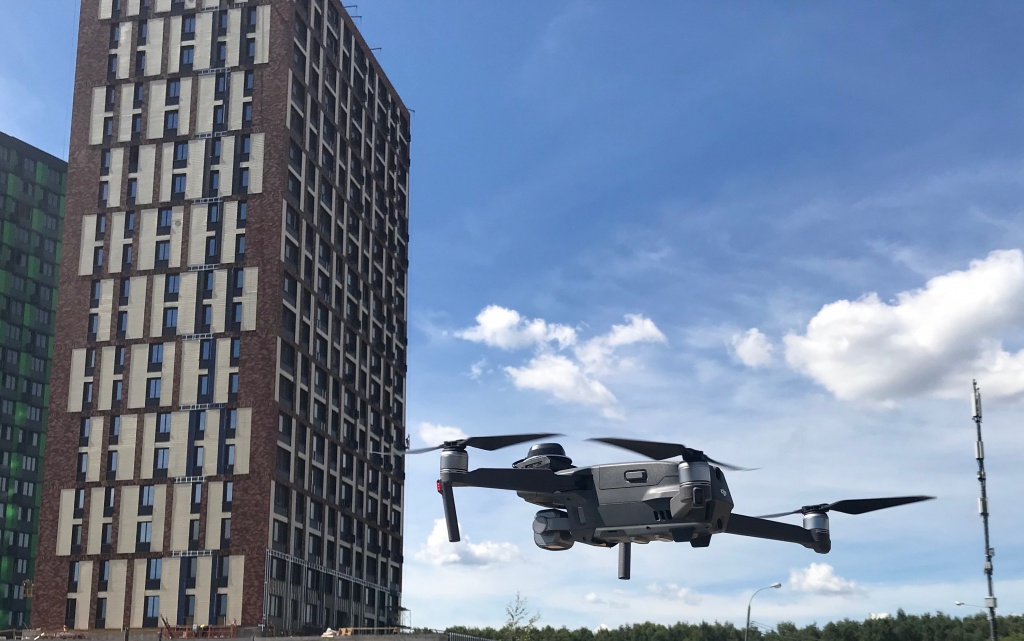 TOPODRON team would like to present the latest development – high precision survey grade drone DJI MAVIC 2 PRO RTK / PPK with EMLID REACH M+ or L1 / L2 186 multi-band GNSS receiver on board.
Survey grade GNSS receiver is connected via advanced Topodrone synchronization system with Hasselblad 20 Mp camera.
With DJI MAVIC 2 PRO PPK you can easily achieve 3-5 cm x,y,z accuracy of orthophoto or 3D model without using ground control points (GCP)
DJI MAVIC 2 PRO PPK upgraded by Topodrone has the following advantages:
1. The lightest and the cheapest survey drone on the market
2. Total weight is less than 1 kg
3. Ease to use, compatible with wide range of flight mission software, such as MapPilot, Pix4D, DJI GS RPO, UGCS
4. Save in use due to advanced obstacle avoidance system
5. Excellent image quality with 20 Mp HASSELBLAD camera
6. L1/L2 GNSS receiver together with the unique camera synchronization system allow to capture photo events with centimeter level accuracy and post processing kinematic (PPK) technology ensures stable operation and receiving fixed solution at a distance of up to 20-30 km from the base station.
7. As a base station you can use any GNSS receiver that stores raw GNSS date with 1 Hz rate.
DJI MAVIC 2 PRO PPK has been tested in the most demanding conditions of surveying works, such as urban areas and rugged relief of open pit at an operating mining site.
Below you can find the results of photogrammetric data processing
For the test site we choose the built-up area. There were buildings and structures, highways, power lines, an electrical substation as well as difficult for mapping terrain structure.
Coordinates of ground control points marked on the ground were measured in RTK mode before flights.
Fig.1 Location of the work area and base station
To perform survey by DJI MAVIC 2 PRO RTK / PPK, you need to plan a flight mission in any of the available mobile applications, for example, MapPilot, Pix4D or UGCS.
Simply draw your area of interest on the map, define flight altitude and overlapping.
Preparing DJI MAVIC 2 PRO PPK for work does not take a lot of time, it's enough to turn on the drone's power, load the flight task into it and the whole survey process from take-off to landing will made fully automatically.
Flights can be performed at a distance of 25 km - 30 km from the base station thanks to the use of a dual-frequency GNSS receiver.
After aerial survey, it is necessary to copy photos and "raw" data of the GNSS measurements in Rinex format from the drone and the base station. In this case, we used information obtained from a permanent base station installed within 5 km range from the area of work.
The whole process of data processing is quite simple:
Step 1. Post-processing GNSS measurements in RTK LIB and obtaining high-precision flight trajectories and coordinates of photos locations, adjusting the position of photographing centers along the x, y, z axes for tilting the copter during flight, replacing navigation coordinates with high-precision EXIF ​​image tags in TOPOSETTER software.
Fig.2 Survey routes and location of photographing centers
Fig.3 software TOPOSETTER
Step 2. Photogrammetric processing in the PIX4D software, automatic aero-triangulation using high-precision coordinates of the position of each image and calibrated camera parameters.
The accuracy images triangulation is presented in Table 1, or you can download the full report of Pix4D processing, available for download at the link.
Step 3.Building a dense point cloud and automatic classification. Fig. 5-8 are examples of a dense point cloud built based on DJI MAVIC 2 PRO images. As you can see, it is possible to convert photos to the 3D model shows buildings and structures, pillars of street lighting and power lines, fences, road infrastructure elements, vegetation, while the density of the point cloud is 965.55 points per cubic meter with 3-4 cm x,y,z accuracy which corresponds to a scale of 1: 500. At the same time an advanced Pix4D classification technology allows you to automatically recognize earth's surface, pavement, vegetation, buildings and structures.
Fig.4 Photogrammetric processing in PIX4D software
| | | | | |
| --- | --- | --- | --- | --- |
| CheckPointName | ErrorX[m] | ErrorY[m] | ErrorZ[m] | Projection Error [pixel] |
| m1 | 0.011 | -0.052 | -0.074 | 0.687 |
| m3 | 0.012 | -0.049 | 0.024 | 0.673 |
| m4 | -0.002 | -0.025 | -0.014 | 0.555 |
| m5 | -0.02 | -0.039 | 0.009 | 0.605 |
| m6 | -0.001 | -0.024 | -0.073 | 0.209 |
| m7 | 0.004 | -0.019 | 0.038 | 0.972 |
| m8 | 0.017 | -0.004 | -0.013 | 0.667 |
| m9 | 0.021 | -0.026 | -0.029 | 0.957 |
| Mean[m] | 0.005331 | 0.029688 | 0.016458 | |
| Sigma [m] | 0.012285 | 0.01492 | 0.038712 | |
| RMS Error[m] | 0.013392 | 0.033226 | 0.042065 | |
Tab.1 Assessment of 3D model accuracy using GCP
Step 4. Orthophoto and contour lines creation
At the next stage, an orthomosaic and contour lines were created. It should be noted that due to the high quality of the classification of the relief surface, the generation of contour lines did not require their adjustment by hand. Figure 11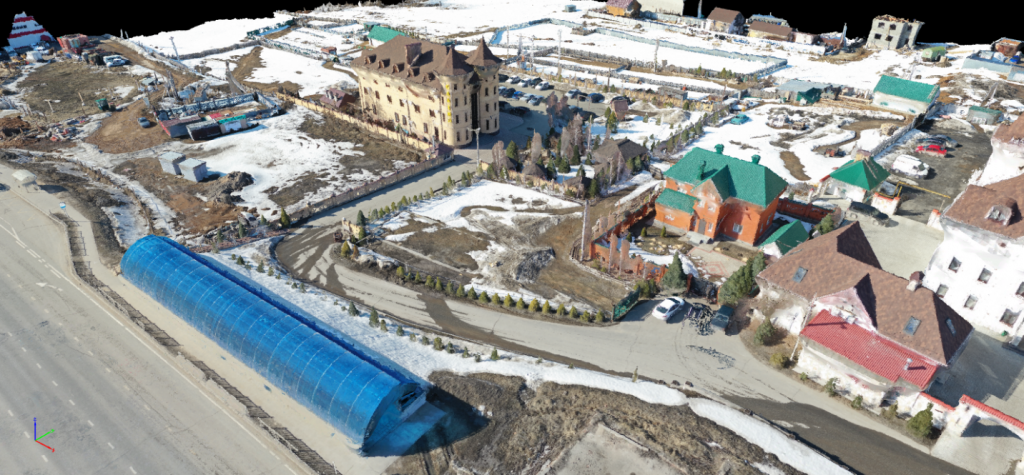 Fig.5 Points cloud
Fig.6 Points cloud classification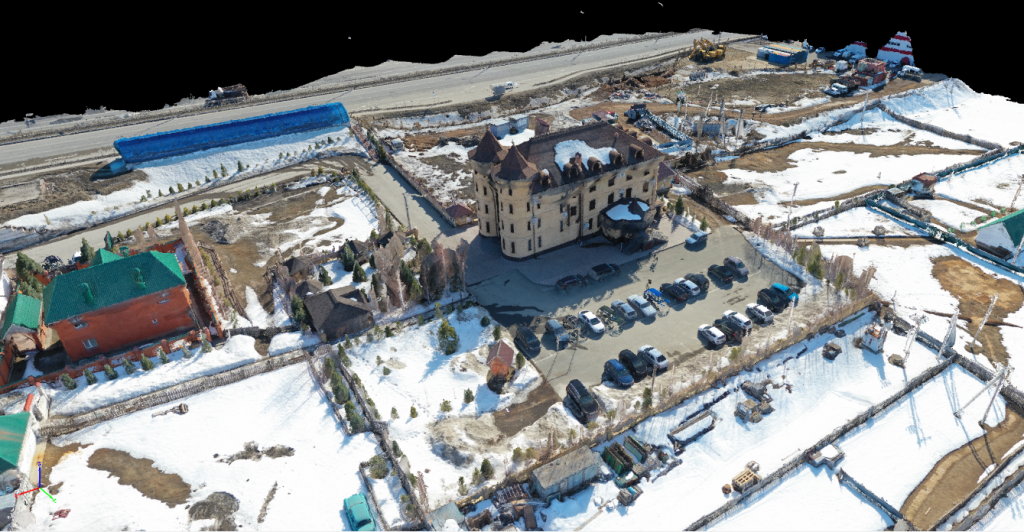 Fig.7 Points cloud
Fig.8 Points cloud classification
Fig.9 Points cloud
Fig.10 Points cloud classification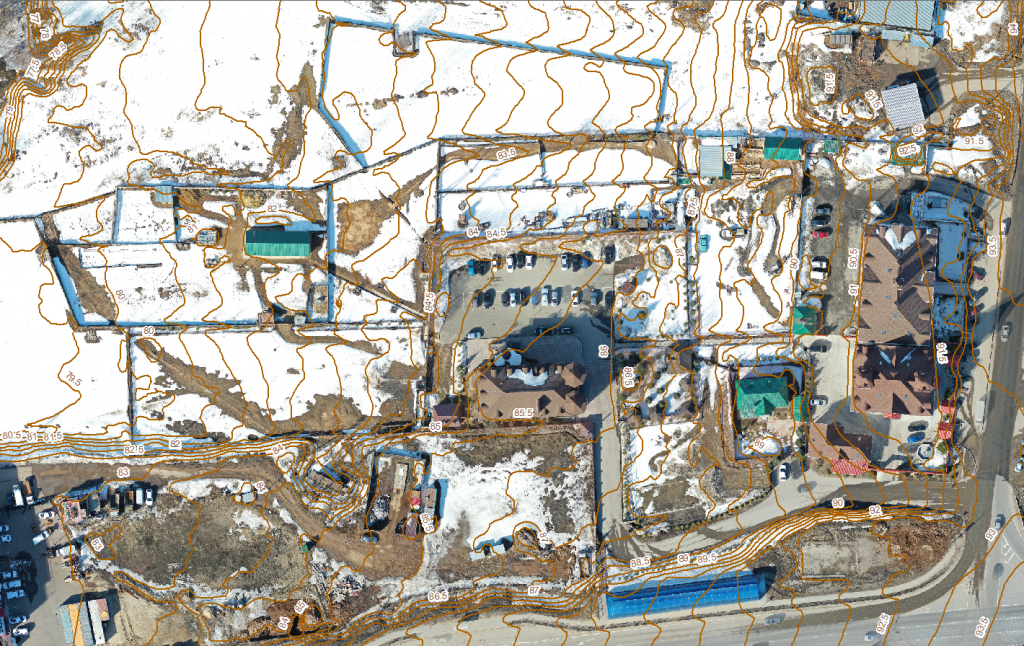 Fig.11 Contour lines
Fig.12 Ground check points location at orthophotomosaic
Fig.13 Ground check points location at orthophotomosaic
Fig.14 Ground check points location at orthophotomosaic
Fig.15 Ground check points location at orthophotomosaic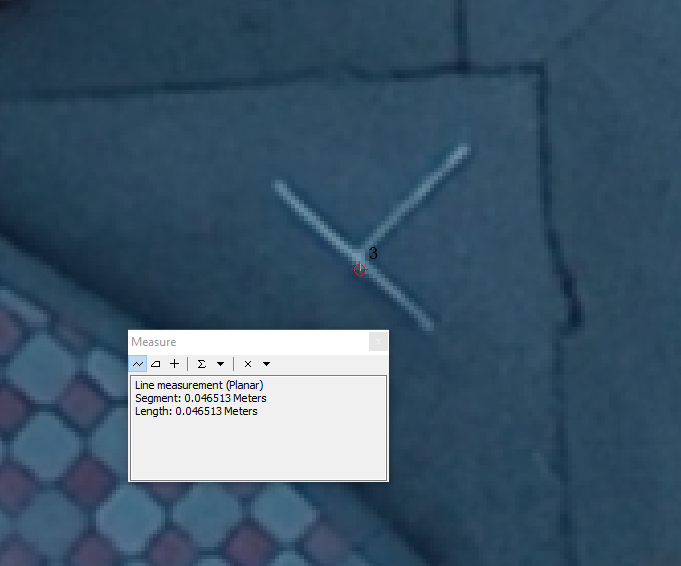 Fig.16 Ground check points location at orthophotomosaic
CONCLUSION
Easy mission planning and control in the air, as well as numerous support systems allow it to be used by almost any pilot.
High-tech camera synchronization with a dual-frequency GNSS receiver allows you to catch photo events coordinates with an accuracy of 2-3 cm, and Pix4D software for photogrammetric processing generates highly accurate and detailed three-dimensional terrain models in their characteristics not inferior to materials of airborne LIDAR systems.
Small size and weight will make irreplaceable the use of DJI MAVIC 2 PRO PPK for survey, mapping and cadastral work, where mobility and efficiency of obtaining information are required.
The ability to work without using additional measured GCP significantly reduces the time and financial costs for field work, and the quality and detail of materials will ensure the creation of topographic plans and 3D models with a minimum number of field works.
This development takes a step into the future of survey market. DJI MAVIC 2 PRO PPK will be essential for any surveyor, cadastral engineer, geologist or environmentalist as easy to use mobile device to create a virtual 3D models, which can take off and landing from the palm of your hand.
Future is coming ……
| | |
| --- | --- |
| Start cooperation with an individual consultation on the selection of equipment and services. | |